Kid's Features


Back To Main Features


Come discover the many fascinating Egypt kids features throughout the Internet. This section of Guardian's Egypt is dedicated to Kids! Most kids love Egypt and enjoy learning about ancient Egyptian life and culture. From pyramids to mummies, hieroglyphs to pharaohs, Egypt has always fascinated kids. Here are fun and interesting Egypt links especially for kids!
---
Guardian's Ancient Egypt
Kid Connection
Check out some of these fun interactive Egypt websites and learn something in the process:
---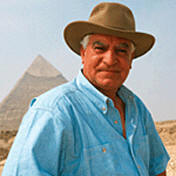 2005 Spotlight Interview with Dr. Zahi Hawass
Read this latest discussion with Dr. Hawass with Guardian which covers the traveling King Tut Exhibit, new discoveries at Saqqara, the Valley of the Kings, the Giza plateau management plan, the opening of Abu Sir, excavating the Bent Pyramid and more.
The Official Fan Club of Dr. Zahi Hawass
Here is the Official Fan Club website for Dr. Zahi Hawass, Secretary General of the Supreme Council of Antiquities. From this site you can learn all about Dr. Hawass!
---
Ancient Egypt Explore this nice concise website presenting info on Egyptian life, geography, gods & goddesses, mummification, pharaohs, pyramids and more. Includes information for teachers. Has features which require Shockwave plug-in. Presented by the British Museum.
Build a Scale Model of the Great Pyramid
Build your own model of the Great Pyramid following these simple steps.
Women in Ancient Egypt
A look at the lives of women of all social classes in Ancient Egypt, including brief biographies of some of the important queens.
Mummy Quiz
Test your knowledge about mummies with this mummy quiz, presented by National Geographic.
Tomb of the Unknown Mummy
An interactive page presented by National Geographic.
Yes Let's Explore Egypt
Designed as a resource compilation for younger children working with their parents at home or with their teachers, shows work done by UK children in an Egyptian project.
The Myth of Osiris and Isis
Learn about the ancient Egyptian story of Osiris and Isis, brought to you by my 12 year old daughter, Whitney Bayuk.
Guardian's Sphinx
A new web page with information and nice pictures of the great Sphinx of Giza.
Ancient Egypt
Here's a nice page page for kids presented by the British Museum which includes info about Egyptian life, Gods and Goddesses, mummification, pyramids and more.
Mummy Mask Making
Now you can make your won mummy mask by checking out this webpage!.
The Clickeable Mummy
This site allows you to click on parts of a picture of a mummy and then explains about that part!
Mummy Lesson Plan
Do-It-Yourself mummy projects include making a model of a mummy case with a wrapped mummy inside and more!!
The Tomb of the Chihuahua Pharaohs
You'll never guess what you will find in this newly uncovered tomb!
Wild Egypt Online Safari
Learn about the animals of Egypt, both on the land and at sea!
Build a Pharaoh
Now you can make your own Egyptian Mask out of paper. This page, from the Cleveland Museum of Art, tells you how.
Make Your Own Mummy
This fun site allows you to make your own mummy out of easily obtainable items. And the good new is, you don't even need a dead guy!
Serge Rosmorduc's Hieroglyphic Converter
Enter your name and it is instantly converted into hieroglyphs! If this is busy and won't work go HERE and enter your name. If you have no luck with either of these two translators, please try HERE.
Egyptian Coloring Book
Also from the Cleveland Museum of Art, this page provides various Egypt pictures that you can print out and color!
The Finding of the Rosetta Stone
This page features the Rosetta Stone which allowed us to finally decipher hieroglyphs.
Pioneers of Egyptology Quiz
Test your knowledge of famous explorers of with this Egyptology quiz!
Guardian's Mystery Pyramid
Learn about the mysterious remnants of the pyramid at Meidum.
Write Your Name In Hieroglyphs!
---
Have you gotten a nice first taste of ancient Egypt??
Want more??
Be sure to check out the rest of Guardian's Egypt,
there are many other great pictures and a ton of information about ancient Egypt,
as well as links to pyramids, mummies, hieroglyphs, Egyptian art, the Sphinx, King Tut and much, much more!
Guardian's Egypt is one of the oldest and simply the BEST ancient Egypt website on the entire Internet.

Be sure to tell your friends about us!!! It's EASY to remember, just:
http://guardians.net/
(don't forget the "s" on guardians, no capital letters, and it's ".net" not ".com" Whew!)
---
Guardian's Egypt
Copyright (c) 1995-2014 Andrew Bayuk
All Rights Reserved