Guardian at the Sphinx 2001

The CyberJourney Continues!
Enjoy new looks at pyramids, tombs, temples, antiquities, read about new up-to-date information and interviews!
There are many more exciting pictures to come of many fascinating places!!

Join Us Now at these sites, new sites will soon become active:

-Check out these wonderful 360 degree Virtual Reality Panoramic views of various sites!!!!
***Recently updated to be compatible with current Quicktime player.
- Read my online interviews with Dr. Zahi Hawass !
- See the 3rd Dynasty Step Pyramid! More to Come!
- Enter An Old Kingdom Mastaba and Pyramid!
- Enter the newly opened Red Pyramid! Enter the Bent Pyramid!
- The Hale-Bopp Comet over the Great Pyramid!
Giza
-Enter the all three of the famous Pyramids, and more!
The Sphinx
- See all sides and even between the paws! New pictures from 2001.
Abu Roash
- Enter The Pyramid of Djedefre!
Discuss Egypt
Come discuss Egypt with our Ancient Egypt Discussion Board! (temporarily closed)
Abu Sir
- Explore three pyramids of kings from the 5th Dynasty!!
Abu Ghurab
- The Sun Temple of Niuserre!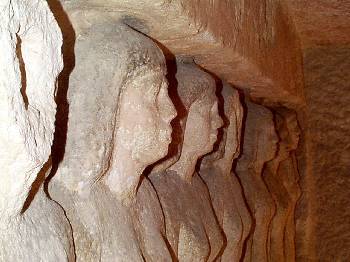 Have you always wanted to GO to Egypt? Now here's your chance
without leaving your computer!!
**Through this web site you can explore Egypt through clear digital pictures from the ongoing CyberJourney.
**Join us whether you have a casual interest in Egypt, are a full blown Egypt enthusiast, a serious scholar, a student or even a whole classroom. Egyptologists are very welcome!
Join our ongoing conversations about ancient Egypt in our new
Guardian's Ancient Egypt BB
Be sure to check out my
2001 Spotlight Interview with Dr. Zahi Hawass
Secretary of the State for the Giza Monuments
---
| | |
| --- | --- |
| | A closer look at some of the sites that we are visiting: |
| | |
| --- | --- |
| Giza: | to see the famous pyramids and tombs on the plateau of this ancient necropolis. COMING SOON - the tomb of Meresankh and newly opened pyramids and tombs!! |
| Saqqara: | see the first great stone pyramid, the Step pyramid, and MUCH more |
| Dahshur: | newly opened site with amazingly preserved Old Kingdom pyramids |
| Meidum: | see the mysterious pyramid that suffered an enigmatic collapse |
| Abu Sir: | see three pyramids from the 5th Dynasty |
| Abu Roash: | explore the pyramid of Djedefre, son of Khufu |
| Abydos: | visit the Mortuary Temple of Seti I and the Temple of Ramesses II |
| Abu Ghurab: | see the 5th Dynasty Sun Temple of Nuiserre |
| Valley of the kings: | visit the final resting place of the pharaohs of the New Kingdom |
| Ancient Temples: | see the Temple of Horus, the Temple of Isis and many more |
| Cruise the Nile: | see the majestic Nile with wonders on its shores |
And MUCH more...
To see Egypt from a satellite, updated every 3 hours, click HERE.
---

Are you finally ready to TRAVEL TO EGYPT??
Here's the tour company that Guardian recommends:

---
Be sure to Bookmark This Page!!
---
---

Guardian@guardians.net
Click here to send me an e-mail!
---
Last Updated on 04/02/15
You Are Visitor Number:
---
About Guardian's Egypt


Guardian's CyberJourney To Egypt
Copyright © 1997-2005 Andrew Bayuk
All Rights Reserved