Pyramid of the Son of Khufu
---
The Pyramid of Djedefre - Breaking New Ground
Djedefre, son of Khufu, chose to build his pyramid 5 miles north of Giza at a site now called Abu Roash. From this vantage point there is a clear view of the pyramids of Giza. It is not known whether or not this pyramid was unfinished, or quarried away, but little remains of the superstructure of the pyramid. Estimates place its original base at about 380 feet, and casing stones have indicated a possible steep angle of 60 degrees! Here is how the shaft and chamber appears from the upper rim, just above the east wall: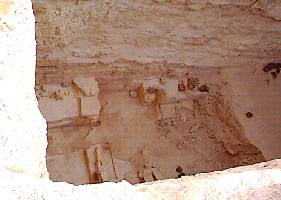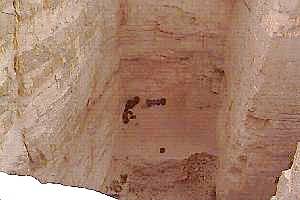 ---
Here is the area where the entrance would have been, the mouth of the descending passageway. Note the granite blocks which indicate that the pyramid was partially cased in granite: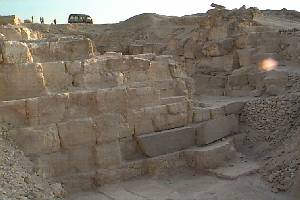 ---
Here is the descending passageway which, in certain places is as wide as 23 feet: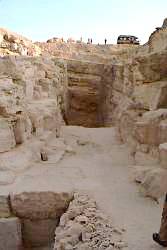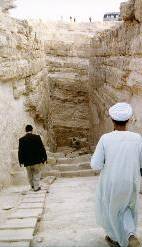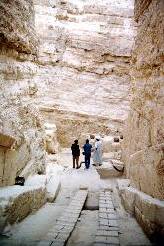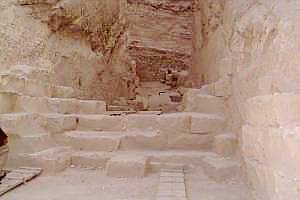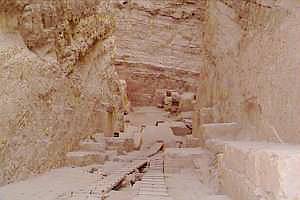 ---
As you enter the chamber the evidence of excavating is all around: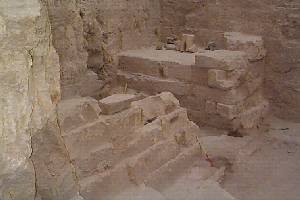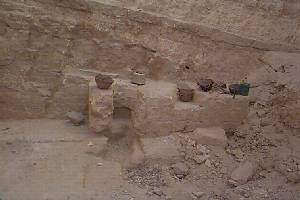 ---
First view is the west wall looking up. Notice the remnants of the original ceiling, now supported with metal braces. The second view shows what was the south wall, looking back up the descending passageway: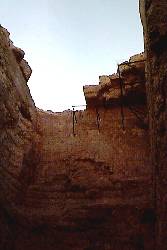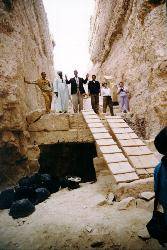 ---
Against the south wall, left of the ramps is a niche. The second view shows part of the remaining superstructure of this pyramid: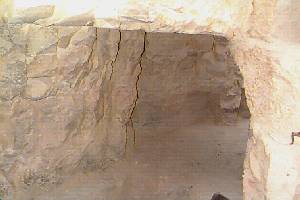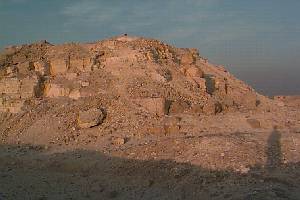 ---
Here's a view of the tents on the site that house the excavators. On the horizon you can see the view to the Giza pyramids: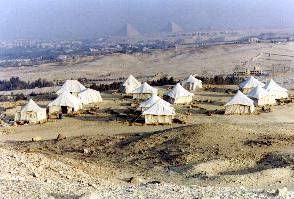 ---
RETURN TO Guardian's Abu Roash - Main Gate
---
RETURN TO Guardian's CyberJourney To Egypt - Main Gate
---

RETURN TO Guardian's Egypt - Main Gate
---
Special thanks to Larry Orcutt who took a few of the pictures on this page.
Also, thanks to Dr. Jack Waite for his picture of the tents.
---
Guardian's CyberJourney To Egypt
Copyright © 1997-2005 Andrew Bayuk
All Rights Reserved
Guardian's Egypt
Copyright © 1995-2005
Andrew Bayuk
All Rights Reserved
---