(More pictures will be posted from this site shortly, stay tuned!)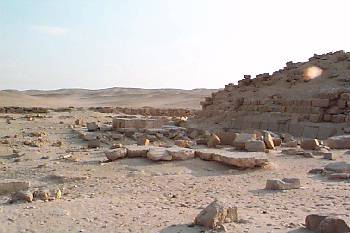 To the right is the remnants of the pedestal building, originally topped with a short limestone obelisk. Toward the center of the photo is the alabaster altar, also pictured below. In the distance, you can also see the remains of the enclosure wall which surrounded the Open Court. Below is a view of the alter looking toward the Giza pyramids in the distance: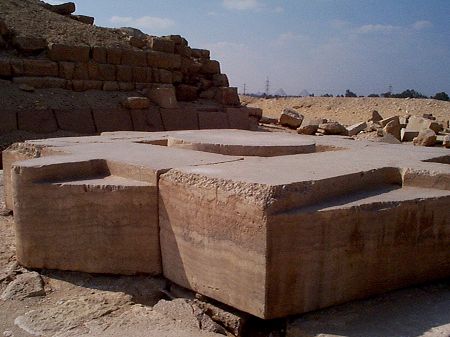 ---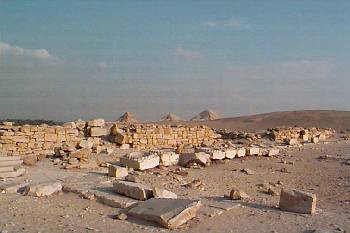 Here is the east wall of the Sun Temple enclosure looking southeast toward the pyramids at Abu Sir. To the inside of the wall lie a number of large alabaster offering basins which are pierced with holes to allow drainage of either the blood of the sacrificial animals, or perhaps the water used to cleanse them. It is not agreed upon as to whether there were actual sacrifices at the site because of the lack of tools found at the site that were used in such sacrifice. Below is a clearer view of the Abu Sir pyramids from the temple: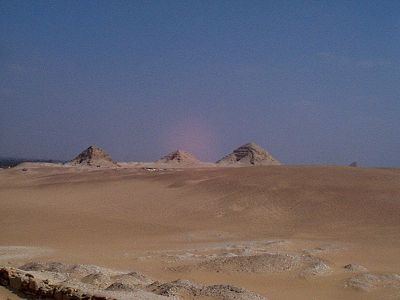 ---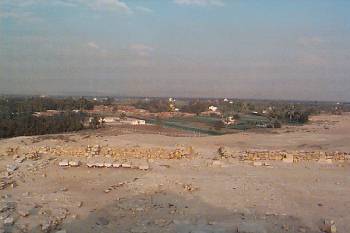 Looking due east from atop the pedestal building. You can see the alabaster offering basins in the middle left just to the interior of the front enclosure wall. The gap in the enclosure is where the causeway led up to. Below is a close-up of the offering basins: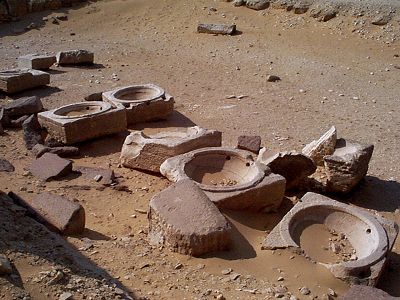 ---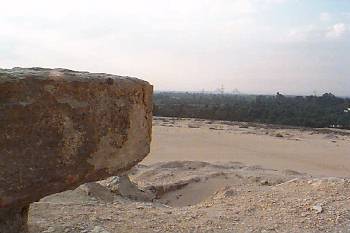 Looking north from the pedestal building you can see the dim outline of two of the pyramids at Giza. Below is a closer look of the Giza pyramids in which you can also see the third Pyramid of Menkaure to the left of the other two pyramids: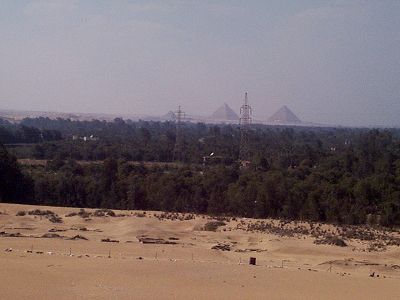 ---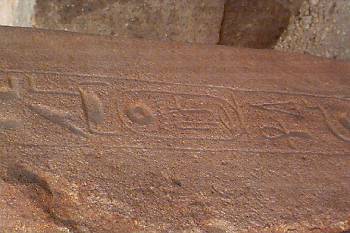 Scattered around the site are broken blocks, here is one that has the cartouche of Niuserre.
---
RETURN TO Guardian's Abu Ghurab - Main Gate
---


RETURN TO Guardian's Egypt - Main Gate
---
Guardian's CyberJourney To Egypt
Copyright © 1997-2005 Andrew Bayuk
All Rights Reserved
---